Train up a child in the way he should go, even when he is old he will not depart from it. Proverbs 22:6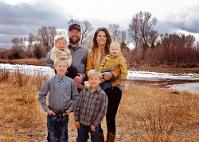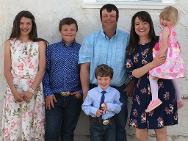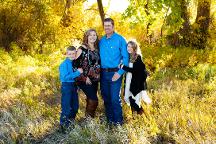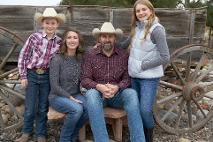 The Zieske Family
"When our oldest son was ready for kindergarten, I wasn't able to homeschool full time but we also knew we were not ready to put him in public school full time. Finding Hope Community Christian Academy was an answer to prayer. My oldest is now an 8th grader, and we also have a 6th, a 1st grader, and a preschooler enrolled in HCCA as well. I love that I can be a part of my kids education and teach them on the home days, but I really appreciate that they can go to school, get the classroom experience, and be taught by actual teachers. Having certified teachers do all the lesson planning, grading, and testing for us is a huge help and leaves us feeling confident that our children are learning everything they need at their grade level."
The Pargin Family
"We have been at HCCA for over 11 years now. Our eldest daughter Grace started kindergarten here and she will start her senior year at high school next year. Our son, Charley, also went to HCCA through 8th grade and is now a sophomore. Our younger children Hendrik and Faith, are in the 3rd and 1st grades. This school is such a blessing in our lives. The education is very high quality, but even more so than that, is the focus on the whole child. Not just that they learn reading, writing, and arithmetic, but that they also learn to look for the child left out on the playground and reach out to them. They learn about respect for others, and faith in God, and are held accountable to the actions that follow that teaching.
When you are part of something this great, all you can say to people thinking about joining the school is to come and see for yourself...experience it. We really think you will find a home here. We sure have!"
The Witt Family
"Our kids have matured spiritually, academically, and mentally. They have grown closer to God & developed Godly friendships we hope will last a lifetime. Hope has been an incredible blessing to our family."
The Brann Family
"Our kids have been at HCCA since kindergarten. I have enjoyed being involved in their education and will never forget the time I've had with them. I couldn't have done it without support from the amazing teachers and staff. I love the family that has been formed within the school. I know that not only are the teachers and staff there for my children, but each and every family that attends is as well. The time at HCCA will impact the rest of their lives!"
The Puls Family
"My son is currently in third grade at HOPE and I could not be more happy and pleased with this school. It has given so much life to our family and I have watched my 9 year old blossom and grow. My husband and I knew from the beginning that public school would not be the best fit for us. We also knew that with my son being an only child, some form of school would be really good for him. We wanted him to be able to make friends, have structure, and experience receiving instructions from others, not just Mom and Dad. We found all those things in HOPE. I get to be in touch with what he's learning because I teach him three days a week. I get a real understanding on how he's doing with his reading, math and writing because I see it first hand. I also have a teacher, who has a TRUE passion for the kids, involved and teaching him. She sees and knows my son, watches for both his growth and seeing areas he might be struggling. It's a partnership and I know that I not only have his teacher wanting the best for him but I have an entire school that is there for him and all the kids. We also chose and love HOPE for their Mission statement. It is an environment that is truly working to serve Christ, to educate and to empower families. My son hears about Jesus every school day in Chapel and he's being taught scripture. There is so much comfort as a parent to be able to hand your child off to others and walk away knowing he's being cared for and loved on. HOPE has been an answer to prayer for my family and I can't wait to watch him grow up in this school."
For more information about HCCA, please read through our handbook.